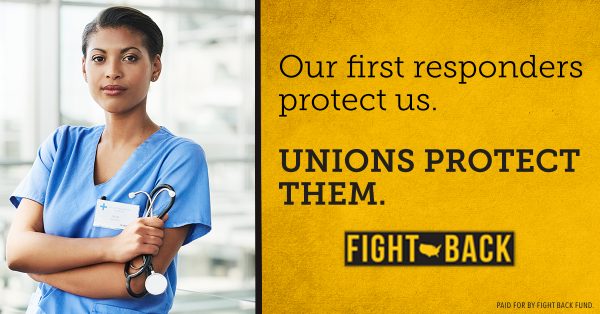 OUR HEALTH CARE WORKERS PROTECT US. NOW, MORE THAN EVER, WE NEED TO PROTECT THEM.
SIGN THIS PETITION TO ADD YOUR SUPPORT:
We all count on our first responders to protect us. Especially in times of crisis, like the unfolding coronavirus outbreak, our nurses, police officers, and firefighters are on the front lines, working hard to keep us safe.
But you might not know how we can protect them — by supporting their right to join a union and engage in collective bargaining for better pay, stronger benefits and safer work conditions. Those rights are under attack by politicians and big corporations that want to put their profits over workers' rights, and we owe it to our first responders to stand strong and defend them.
Unions keep job sites safe. That means making sure they meet safety standards, so no workers are injured on the job. And it means making sure our nurses have access to the personal protective equipment, like masks and gowns, they need to stay safe as they treat the sick.
Unions provide our first responders with quality training, too — so our nurses, police officers and firefighters know what to do in an emergency.
Unions also stand up for their freedom of speech — so our nurses can sound the alarm if they're concerned about safety or preparedness in our hospitals.
And, of course, through collective bargaining, unions make sure that our first responders receive the pay and benefits they deserve for keeping us safe.
In times of crisis, our first responders protect us. Let's protect them and defend their right to collective bargaining.